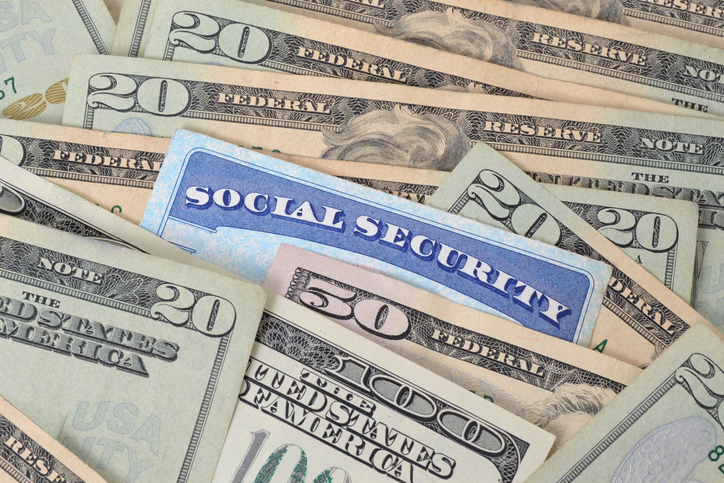 By Elizabeth Wolleben Yoder
Posted April 27, 2022
---
How Does Inflation Effect Social Security Disability Benefits?
This is a question we get asked all the time, especially during times of high, rising or even runaway inflation. It's not a simple answer though, especially for those who don't have a full understanding of what Social Security Income is. By the end of this blog post though, you yourself will be able to answer that all-important question "How does inflation affect social security disability benefits?"
First of all, what is Social Security Income? A lot of people don't really know. It is fairly straightforward though, Social Security Income includes income from Supplemental Security Income (SSI) and income from Social Security Disability Insurance (SSDI), as well as any retirement benefits. Each of these has a cost-of-living adjustment annually based on the inflation rate of the country. So, as the cost of living in the world, including buying and spending on groceries and purchasing heating and clothing goes up, so does the income. If those costs go up with inflation, so does the cost-of-living adjustment, or social security income, whether that's SSI, SSDI, the Disabled Adult Child Benefit (Also known as the DAC), or traditional retirement benefits.
Now we need to discuss what the Substantial Gainful Activity Number is. This is a set number that defines how much a person who has a disability is able to make per month in order to continue receiving their SSDI benefits, and sometimes SSI benefits as well. SSI is more complicated because it is more linked to being a poverty prevention program than SSDI, which is given to people who have paid into Social Security to receive the benefit of government disability insurance. So, we're just going to look at SSDI.
If someone earns more than the SGA number in any month, they are at serious risk of losing their benefits. There are a number of things that count towards reducing their earned income but to put it in simple terms if someone earns more than the SGA, $1,350 a month for the year 2022, they lose their eligibility to receive their SSDI or disabled adult child benefit (DAC). And those who will be eligible or are on the DAC benefit may lose their eligibility forever.
Now you may expect that the cost-of-living adjustment for the Social Security income and the Substantial Gainful Activity number are based on similar calculations, but they are actually entirely different! Even though they seem similar, and disabled people deal with both, and they are both affected by inflation, they are affected differently because they are based on different calculations.
Let's discuss what the substantial gainful activity number is based on. Well, it's not on the inflation, rate, which already makes it much different than the SSI. The SGA is also not based on the increase in the cost of living throughout the years. It's actually based on a different number called the national average wage index. SGA is linked to how people are being paid year to year. While that number does increase over time, it is at a slower rate than inflation as it is based on wages. Wage growth is not automatic. It is based on the complexities of where jobs are, what the minimum wage is, and the ability (and interest) of companies for supporting their workers with raises. Think about this: If someone is receiving an income, and they're getting average wages throughout their years, that number is not considering the rising or falling cost of living. That's just what people are willing to pay you for work.
When we're thinking about people who are receiving disability benefits for their work history, many (but not all) are working entry-level jobs. We don't expect their wages necessarily to go up very much if they are limited in their capacity to work. Their wages may only increase due to the minimum wage changes that occur. Now when that happens, that average income or average wage index should change to allow them to have more income to their name. However, it might not increase as much as you'd expect. Our certified special needs financial planning services can help you understand what to expect.
This increase might not be as much as it would be if it was linked to the cost-of-living adjustment of inflation. And so, we are finding that the speed at which people are increasing their received Social Security benefits is outpacing the speed at which they can earn money in a reasonable way and not cut back on hours. Basically, disabled individuals' income from Social Security is rising with inflation, but the amount of income they can make from working isn't rising based on inflation and rises at a slower rate. It's really quite something to see people backing off on their ability to work, moving from 20 hours to less because their benefits are more important to them and the loss of them is more painful than finding a way to continue working.
When we at Planning Across the Spectrum discuss SGA and working independently, we want to find ways in which working allows people to move ahead in their lives and find ways to feel more supported by the work that they're doing and not less. With SSDI, there is a "benefits cliff," where once someone goes over, they lose a benefit that is almost half of what their standard income has been. The way that inflation affects social security disability benefits is not only complicated but has also led to a system that often discourages disabled individuals from working, even if they want to.
What we really want to see is that people are supported in planning for what they want to have to happen, versus losing benefits because they go $10 over the SGA one month. Ideally, there would also be legislative changes to how SGA is calculated, but we are not legislators. We are planners who can educate and support individuals in figuring out the rules and how to incorporate them into the life that you need to be supported and independent. We are here to help those who need it with explanations like these and assistance in making important financial decisions that are crucial for living a happy and exciting life.
We at Planning Across the Spectrum know the world of disability benefits better than anyone, and we will help you receive what you need to have a fulfilling and happy life. Just Contact Planning Across The Spectrum for certified special needs financial planning services.
---
Tags