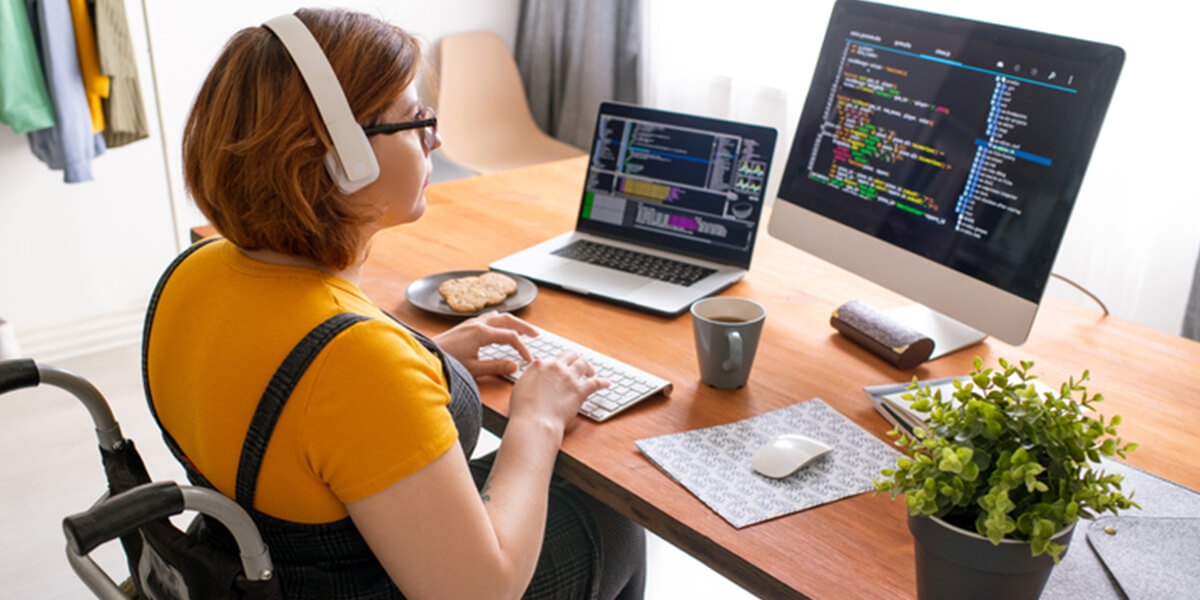 ---
A Case for Working When You Have a Disability
Over the past few weeks, we've been focusing on how employment benefits and empowers people with disabilities.  But when discussing employment, it's equally important to discuss the disability benefits employees may receive, in addition to perks like 401(k) matches and comprehensive insurance plans — that all add up in the long run.
We are passionate about helping individuals find work, and celebrate companies whose hiring practices reward everyone involved. However, we've also learned that it is not enough to simply offer someone a job.   To that end, we've developed a way to illustrate how an individual can work, retain their benefits, save for their future, and have safety nets whenever they may need them.
A brief caveat before we begin: We are well aware this is a difficult time for many, and a record number of people are unemployed and out of a job.  However, we also believe that the current unemployment crisis grants us all an opportunity to take a step back and plan for the future. Things will get better.
The Benefits of Working
Disclaimer: We understand there is no one size fits all. We also wanted to be as accurate as possible. All of the benefits seen here are real benefits offered by a national chain. If you would like to see a customized plan based on your state or individual circumstances, or even the details behind our assumptions. Please reach out. The goal is to show that employment is a more viable option then most realize! You can very likely keep your important benefits and support, while working. 
Taylor is an 18-year old with a disability who lives at home with his parents (both in their 60s).  He just received word that a local coffee shop wants to hire him as a part-time barista, with a starting wage of $10/hour, 25 hours per week.
Taylor does have the option to decline the job offer; he will be eligible for Medicaid and receive $800/month in Social Security regardless of his employment status.  But accepting the job offers a number of perks he otherwise wouldn't have access to, including comprehensive insurance policies, long-term disability purchases, and the ability to invest in a 401(k).
The chart below summarizes the benefits Taylor receives if he enters the workforce, and how they compare to being unemployed.  Our goal is to demonstrate how the path to employment can be a rewarding one on so many levels; relying solely on government benefits is not the only option.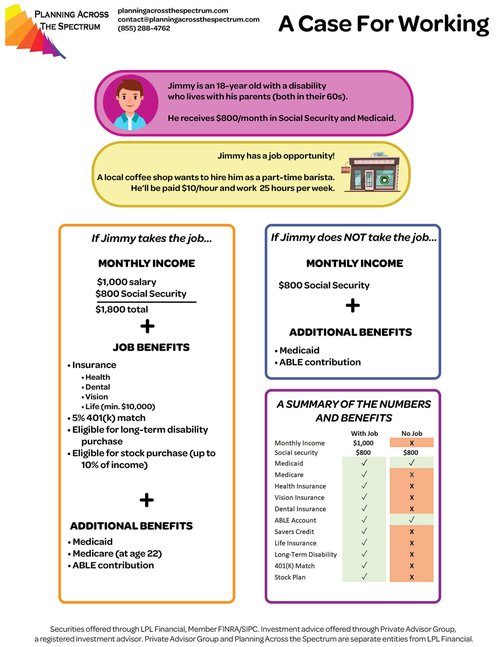 What Happens When You Lose Your Job?
Let's assume Taylor accepted the coffee shop job, and jump forward 20 years.  He's worked diligently as a barista that entire time, but a round of layoffs has unfortunately led to his position being cut.
Taylor has a number of options to weather the storm while he looks for work.  Because both of his parents passed away, his Social Security has increased from $800/month to $1,800 per month.  Taylor can also apply for up to 26 weeks of unemployment benefits, 18 months of COBRA health benefits, and vocational rehabilitation if he so wishes.  Finally, he'll continue to remain eligible for Medicare A & B.
The following chart summarizes Taylor's financial situation after being laid off.  What we want to especially draw your attention to is the column showing his assets after 20 years in the workforce.  Taking the barista job at 18 — and leveraging opportunities to invest in a 401(k) match and stock plan — allowed him to save $172,000 over the past 20 years. Though Taylor has lost his job, he will be okay in the long term.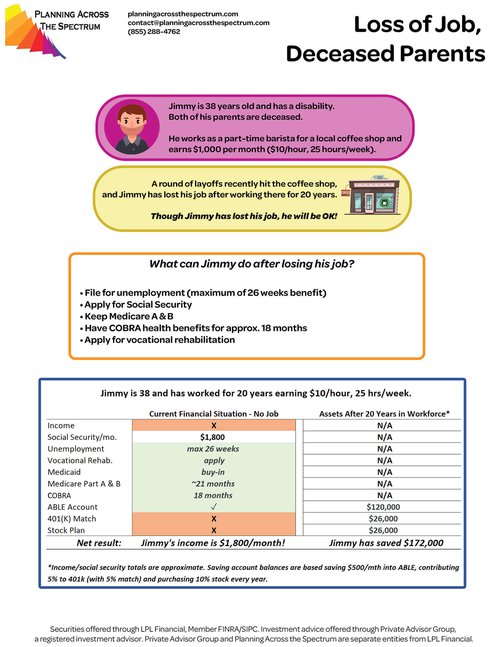 In Summary
Every person's situation is different. We realize that not everyone with a disability is able to hold down a job. We also realize that, depending on where you live, you may have access to additional benefits, programs, and supports that we didn't outline here.  Our goal is to show you how employment offers many important benefits to people with disabilities, and that financial planning is a critical component of planning for the future.
If you would like a high-quality PDF of the worksheets in this blog post, wish to discuss your specific situation, or are an employer who wishes to empower employees with disabilities, please feel free to reach out to us.
---
Tags