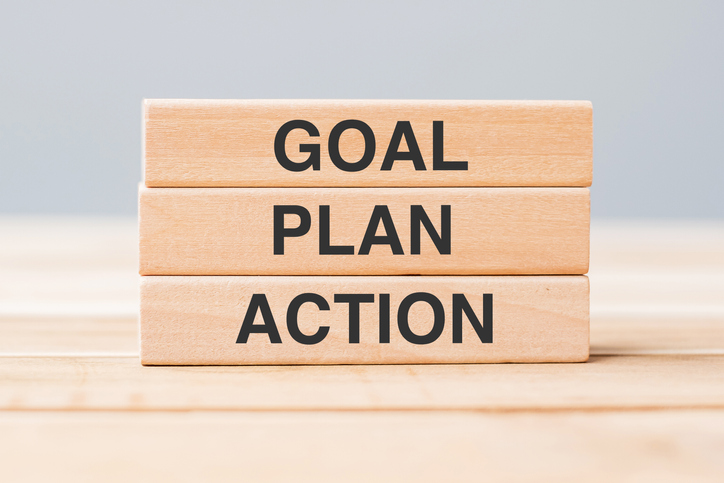 By Elizabeth Wolleben Yoder
Posted April 13, 2022
---
The Importance of Goal Setting and Financial Planning for Intellectually and Developmentally Disabled Individuals
When I was 22, I moved into a home where I lived as a caregiver and housemate to four adults with intellectual and developmental disabilities (I/DD). Intellectual and Developmental Disabilities can include everything from autism to Down Syndrome, to learning disorders, language and speech disorders, cognitive delays, and more. Everybody in the house was very different from me, but also very different from each other. I did a lot of help with goal setting in those days. Helping others with effective goal setting requires a genuine desire to understand and do best for the person you're working with. It requires an open mind to how individuals' lives change and how personal and work decisions constantly effect one's goals. This is all true for financial planning as well, especially when it comes to the neurodivergent population. Looking back, it's amazing how much I learned as a caregiver and housemate about goal setting, and it's incredible how what I learned has informed my other passions. Goal setting and financial planning truly go hand in hand and if done effectively build on each other, but we'll get there in a bit. Before I can share how to be master goal setters and get the most out of your financial planning, we have to start at the beginning.
In the house I moved into at 22 we had a very special tradition. Every year around the anniversary of their time living in the community, we had a celebration of goal setting for each of the housemates for whom we were employed to provide care, assistance, and companionship. On a practical level, the one-hour meeting fit within our preparation for the annual Individual Service Plan (ISP) process for people receiving social work services. But on a more fundamental level, it allowed us to develop goal-setting, a vital life skill that can often become a work skill and a tool for personal growth. Goal setting isn't easy though, nor is it simple.

In fact, goal setting can be daunting for many, but we had a specific structure for the celebrations we had around meeting one's goals. First, we reviewed the individuals' values, skills, and hobbies. What was important to them? What were they good at? What did they have fun creating or spending time on? A group of close to 30 of their closest friends and family, sometimes coworkers, and sometimes a social worker, gathered in a large open living room circle to share what we saw in our friend. We affirmed the spark of joy we saw in old and new activities and relationships. We acknowledged their limitations and barriers, but we focused on their skills, abilities, and happiness. This wasn't about if they could follow the world's plan for them, it was about helping them build their own unique path forward. We reviewed highlights from the past year. We added items to the running list to review each year. We also shared the things that no longer seemed important to our friends that we all could release from our time and energy. This goal setting had a sense of community but also a sense of individualism. Our friend was understood as the complex individual they were, and they were front and center in the decision-making that was at the core of our goal setting: the important piece of deciding what you want in life.

If our friend was able to articulate for themselves these ideas, they would. Sometimes, our housemates relied on the words of others to communicate to the group what had been communicated in other ways. They would confirm what we had spoken aloud into the room before we moved on to a new idea. They were central to these conversations. The phrase "nothing about us, without us" has been used by many disabled communities, and I found it a crucial ingredient to inclusive goal setting. If we're having conversations about someone, they need to be included in those conversations. I realized the importance of thorough discussions about people that focus on what makes them individuals.

After some time, we would get down to business proposing ideas for what the goals would be moving forward. We reviewed our friend's home life, including their room, housekeeping or gardening responsibilities and interests, and their relationships with the other housemates. We would review their work-life by collectively searching for new projects they might pursue or creating strategies around their desire to slow down into more of a retirement mindset. We'd review their church life and if religion or religious activities were important to them. And very importantly we'd talk about leadership and responsibility. These are conversations we don't have enough with disabled individuals, and we sought to change that. We worked to understand if they wanted to take more leadership within their broader communities. We talked about what it meant to become more involved with things they loved and how leadership can mean helping build those things bigger and stronger.

We discussed anything our friend wanted and used that information to build a framework. A framework of what the goal would actually be, what would be the right support network to make sure our friend continued to pursue this goal throughout the year, and any other concrete steps that could be taken. For example, saving up for and buying airline tickets to visit a former housemate's home across the country, and picking a travel companion. After the meeting, we once again shared our group intention to support our friend throughout the year with the things that they cared about most. We left the meeting with a sense that we all know our friend is the director of their own life. Occasionally, the meeting was emotional. Oftentimes, I wished I had my own celebration where all my friends and family would gather to show love and support for the goals I had set for myself in order to learn, grow, and thrive.

I have come to especially appreciate goal setting within a financial plan using this supportive framework. Goals are best when specific and individualized. This means that the goal is related to the specific client and their unique set of experiences, interests, values, skills, and creative pursuits. If they are able to define multiple steps in the process from the beginning, they are more likely to be successful. Actionable steps are crucial, and they are even more valuable when the goal setter can define them themselves. Also, the more people they have supporting them, the more they are able to feel the encouragement and love of others as well as the pressure necessary to complete something that's difficult.
When a new client starts working with us at Planning Across the Spectrum they often have a specific question they'd like us to address. If they've never worked with a financial planner, they are often surprised later on when we show an interest in some aspects of their life beyond what they originally shared. I've heard more than once, "You really want to know that?" And the truth is that yes we do because we know it's important. We know that who our clients were when we first met them is not who they are today, and it isn't who they'll be tomorrow. They have made choices about their career, their home, their education, their child's or grandchild's education, and other professional and personal relationships that have taken them places they did not know they'd be exploring. Many times, they go through these changes during our financial planning advisory relationship.
Especially now that we have seen the impacts of our society on lockdown through Covid-19, we are all exploring different ways to engage with friends, family, and the world. For our clients, that may include less travel (due to our current global hesitation), but maybe more thought into launching into retirement employment, a board membership, a new volunteer position, or annual giving. They may be thinking of finding that home that they always had in the back of their mind or spending more time on the water on their boat that might need a little work. We want to hear all about it so we can help our clients achieve what they really want out of life right now.

I have also learned to ask this question: Why waste energy focusing on a goal that doesn't actually bring you closer to the life you want to live? This catches a lot of people off-guard, but I believe it's really important to have the bandwidth and energy to strive for your goals. Review your goals regularly (gifting, estate, housing, etc.) to make sure they reflect your current values and interests, not a former version of themselves. My wish for my clients is that they keep learning and growing! Big and small, we want to hear about our clients' dreams. We want to cheer them on, and we want to help them by helping them make the right investments.
We want to talk to our clients about these things not only because we know it's important but because it's fundamental to what we do as financial planners, and we love being financial planners! Financial planning and financial advising need to be built around who someone is as an individual. And that takes a lot of talking, a lot of discussions and conversations about who our clients are and what they want. Just like we did when I was a caretaker and housemate years ago. Good thing I loved every second of it. Here at Planning Across the Spectrum, we not only deeply understand the importance of goal setting and financial planning for intellectually and developmentally disabled individuals, but we've done this work for years and love it. We can't wait to work with you to achieve your dreams, and it starts with us hearing them!
Contact Planning Across The Spectrum for certified special needs financial planning services and a consultation that will start you on the right path to success!


---
Tags