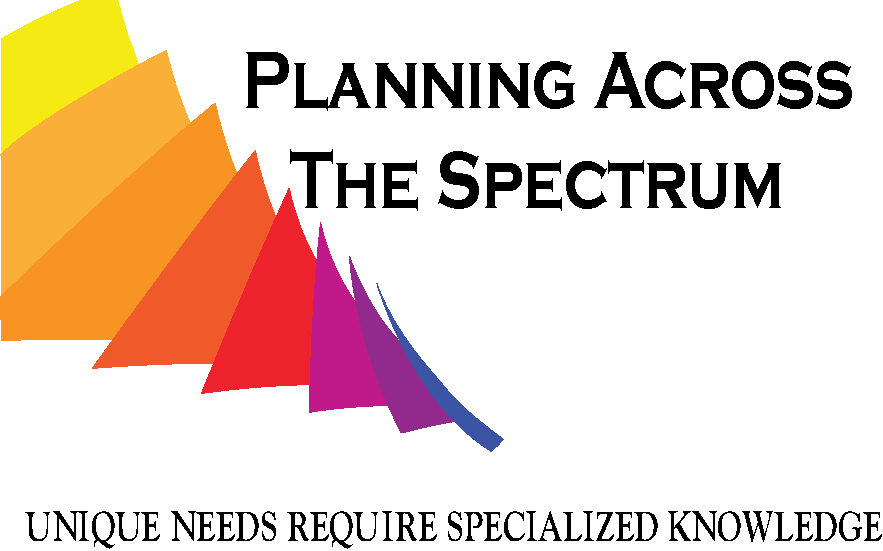 ---
Health Insurance
Have you been trying to work through the maze around health care planning? If so, you'll know that it's difficult because of the wide variety of plans available. Individuals find health care planning a difficult task, but the questions become even more complex for those with ASD. So what do you do? A qualified financial planner who has experience with ASD clients might be one way for you to get some answers. Whether you are looking at government programs or private insurance plans, there are a few things you should know before you commit to a course of action. Of concern might be retirement, applied behavior analysis and various therapies that may or may not be covered under different types of health benefits. We at Planning Across the Spectrum can provide guidance on understanding the various types of health insurance and reading the explanation of benefits (EOB) associated with the health plan. Individuals and their care teams can benefit from our professional expertise and contribute to their health and wellness.
Types Available
Selecting health insurance is an important decision for everyone and requires careful consideration. In general, there are a few major sources of health coverage available. You will no doubt recognize these common sources of health insurance:
Employer-based health care coverage
Privately purchased health care for those who are self-employed or those not covered by workplace insurance benefits
Government programs that provide assistance with healthcare to those under retirement age based on need
Health care coverage for those who are retired
Choosing a healthcare plan can be an overwhelming process. We are here to help guide you to the right plan for you and your family.
Plan Types
There are a variety of plans available, and they vary in expense and coverage. This is a brief overview of what those are.

Health Maintenance Organization (HMO) plans are typically the least expensive type of insurance offering a lower monthly premium and less out-of-pocket expenses. These plans allow you to select a primary care physician (PCP) as a gatekeeper who can then refer to other specialists as needed. Because of this, HMO plans also tend to be the most restrictive.

Preferred Provider Organization (PPO) plans are less restrictive in terms of what medical practitioner you can see but tend to come with a higher premium in exchange for this flexibility. You typically do not need a referral to see a specialist and can see out-of-network physicians, though this may come at higher out-of-pocket expenses you need to cover and may require special insurance claims that you need to submit yourself.

Point of Service (POS) plans provide the benefits of both a PPO and an HMO. When seeing an in-network primary care physician (PCP), there are no deductibles and preventative care is included. Out-of-network physicians can also be seen, but with higher costs out of pocket.

Determining Which Type of Plan is Right for You
Consider the following:
Are you willing to pay co-payments each time you see a physician?
How much can you afford as a deductible (the amount you will pay out-of-pocket before your balances are covered)?
How much premium can you afford month-to-month?
What type of coverage do you need beyond a typical PCP?
Is your preferred doctor within the network of the plan you are choosing?
Are tax-advantaged medial spending accounts available within your plan options?
Medicare and Medicaid
Medicaid is a state and federal program that provides health coverage if you have a very low income. In most states, if your child qualifies for Supplemental Security Income (SSI), he or she automatically qualifies for Medicaid. While SSI provides monthly income to help offset costs associated with a particular disability, Medicaid provides access to health care coverage that individuals and families otherwise could not access. For children with disabilities, Medicaid provides families access to speech, occupational and physical therapy and behavioral health services and has no premiums, co-pays or deductibles. Medicaid adds to any existing coverage the child has, such as private insurance. Therefore, if your child has private insurance, that must be used before you can use Medicaid benefits.  For children with autism and other disabilities, there may be physical and behavioral health care needs. Behavioral health care refers to treatment that helps persons with mental health, emotional/behavioral disorders and drug/alcohol issues.
Medicare is a federal program that provides health coverage if you are 65 and older or have a severe disability, no matter your income.
Medical Emergencies
While we don't like to think about it, natural and man-made disasters and accidents can impact our lives at any time. While you can't always fully prepare for how nature and biology may take its course in this, it is wise to have resources to fall back on. Consider the following when thinking about medical emergency preparation.
Have health insurance that covers you and your family – medical emergencies can be expensive. By law, you are required to keep up-to-date medical insurance for yourself and all dependents.
Keep up with preventative care – schedule yearly physicals with your primary care physician and specialists.
Show all household members how to contact emergency crews – most mobile phones are now programmed to call 911 with a verbal command. Make sure everyone in your home knows how to call in the case of an emergency and keep the number for Poison Control readily available.
Train yourself and your family in first aid, CPR, and generally good safety habits – CPR Classes are inexpensive and can be life-saving. Teach good safety habits (where to store poisons away from children, where to store sharp objects, etc).
Keep emergency supplies available in your home – keep a first aid kit, a fire extinguisher, and emergency numbers on each floor of your home and make sure that each household member knows where they are.
The opinions voiced in this material are for general information only and are not intended to provide specific advice or recommendations for any individual.
Securities offered through LPL Financial, Member FINRA/SIPC. Investment advice offered through Private Advisor Group, a registered investment advisor. Private Advisor Group and Planning Across the Spectrum are separate entities from LPL Financial.
---
Tags