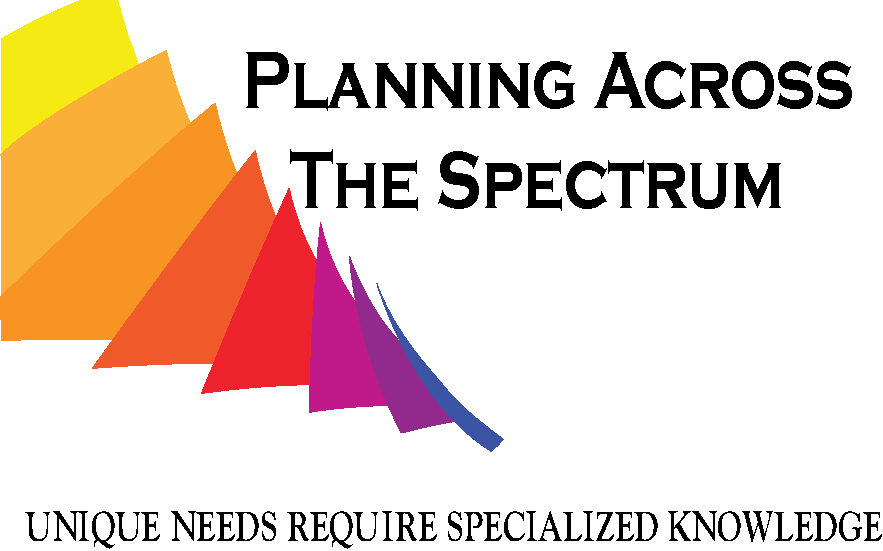 ---
ABLE Accounts in Connecticut
Please see updated Connecticut ABLE accounts information here. 
Quick Facts About Opening an ABLE Account in Connecticut
Unfortunately, Connecticut is not one of the states that currently has an ABLE program—but there is good news. There are 41 states that currently offer ABLE programs, and any resident of Connecticut can open an out-of-state account provided the state's stipulations allow for the opening of accounts for out-of-state residents. This post goes through a breakdown of options available, and things to consider for Connecticut Residents. Also, if Connecticut decides to become part of ABLE in the future, those with out-of-state accounts would be able to "roll" them into their in-state, Connecticut account. (Although it still may make sense to keep the one you have).
This post is specifically on ABLE accounts in Connecticut. For more general information on ABLE accounts visit this page.
More about ABLE/529A Accounts
In addition to states that offer the ability to open an out-of-state ABLE account, there are also states, known as "alliance" states, that have formed ABLE coalitions, so to speak. For example, Georgia, Kentucky, Missouri, South Carolina and Vermont are all partner states of the Ohio 529A STABLE account plan, while other these states have formed the "ABLE Alliance": Alaska, Arizona, Colorado, Washington DC, Illinois, Iowa, Kansas, Minnesota, Montana, Nevada,  North Carolina, Pennsylvania, Rhode Island, and Tennessee. This "ABLE Alliance" shares expenses in order to lower the costs of 529A plans in their respective states. It is a hope that when ABLE does come to Connecticut, CT can be part of one of these alliances or coalitions as well to keep costs low. There are also states within another grouping, known as the STABLE states. This group includes Ohio, which is included in the list below. For more information on STABLE states, feel free to contact us.
Also, in addition to the IRS Saver's Credit, the state of Connecticut also offers a tax deduction for Traditional 529 Accounts, also known as Connecticut Higher Education Trust (CHET) program. You can move up to $15,000 a year from a 529 to a 529A (CHET to ABLE) for the tax deduction. Connecticut has no waiting period to accomplish this and it can be a strategy worth considering.

Comparing ABLE Accounts by State
Characteristics of an ABLE account are unique to each state. Some ABLE accounts provide debit cards, while others do not. Also, annual fees vary by state. Below, find a  comparison chart to aid you in better finding the out-of-state ABLE account to best suit your needs. Please note this is not inclusive of all states, but a sampling.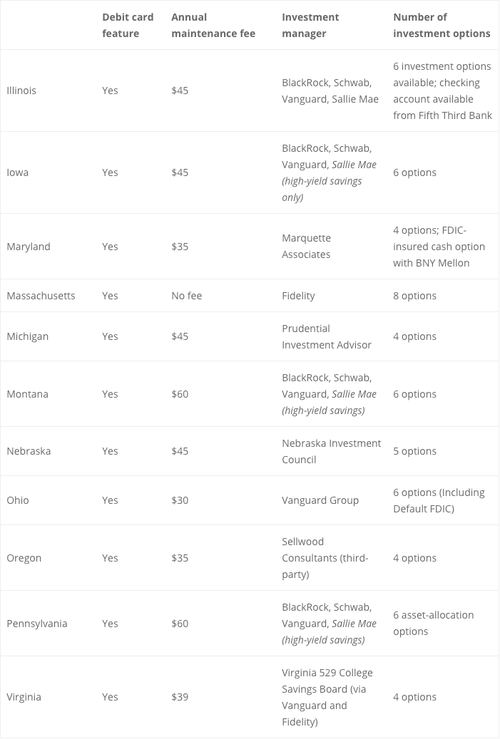 If you are uninterested in the debit card, more states (such as some of the "alliance" states), can provide you with the ability to set up an ABLE account. However, the costs and fees are similar (e.g., California offers no debit card with a $37 annual maintenance fee and four investment options).
As a result, we like Fidelity, since they are a well-known investment leader and they have no minimums, no yearly fees, and no fee for the debit card. Fidelity also reimburses ATM fees. Ease of use and convenience for people who already have fidelity accounts makes Fidelity a top choice. The investment options have Fidelity active management and may carry a slightly higher expense than "Index" options. However, if you're just starting out or are working with small accounts, the maintenance fees can really add up. We are able to assist you in the opening of the account and provide ongoing guidance. Fidelity.com/able 
However if you are looking for an FDIC option and looking to frequently use a debit card we recommend Ohio stable account. They make it very easy to keep track of expenses and have an FDIC insured cash option. stableaccount.com.  Ohio was the first ABLE account in the country. They also have some great options for providers managing multiple ABLE accounts.
If you need more information
Opening an ABLE Account in Connecticut can bring lots of questions. If you need answers to more of your questions about how to open up an ABLE account in Connecticut, feel free to contact us at Planning Across the Spectrum by calling 860-606-7060 or emailing us at andrew@planningacrossthespectrum.com. We will be happy to schedule a free consultation and help you in any way possible to explore your options regarding ABLE (529A) accounts and plans.
---
Tags